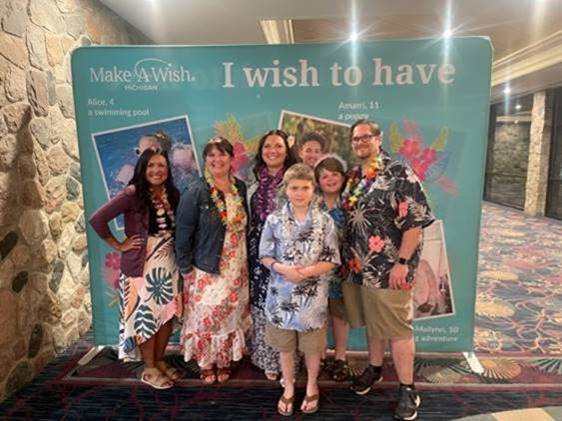 ABC Greater Michigan Chapter hosted its Great Lakes Bay Regional Fundraiser to Benefit Make-A-Wish Friday, April 21 at the Great Hall Banquet & Convention Center, Midland. Approximately 240 guests joined the community in honoring children bravely facing their health challenges.
Craig Lang of Garber Chevrolet Midland served as the event's honorary chair and enjoyed the power of gifting hope and granting wishes.
"My wife Lori and I have been supporting MAW for a very long time. We are thrilled ABC Greater Michigan make this organization one of their big efforts every year. It's a great way to touch children with critical illnesses to make their wishes come true," Lang said.
This year's event raised $30,000 for Make-A-Wish Michigan. A wish granting helps kids look past their limitations, families overcome anxiety and entire communities experience more joy. Most importantly, wishes can improve a child's quality of life.
ABC sponsored a Wish Family from Mt. Pleasant. Parker, 12, has a genetic disease called cystic fibrosis, which has no cure. Parker has had many surgeries and hospital stays in his young life. He is required to have daily treatments that include chest percussion therapy and he takes many medications every day to maintain his health. Despite his challenges, Parker is a very happy, caring and intelligent young man. He and his family will head to Hawaii in June as Parker's wish was to go to the Mauna Kea Observatory.
Next year's event is set for April 19, 2024, at the Great Hall.