CORONAVIRUS (COVID-19) INFO & RESOURCES
CORONAVIRUS (COVID-19) INFO & RESOURCES
We have cancelled or rescheduled all March, April, May and June events. For more information, please click the "Events & Networking Tab" above to view our event calendar.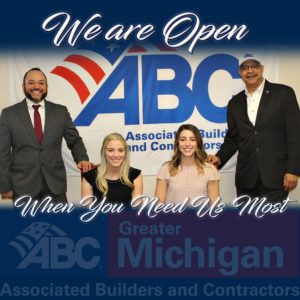 Upcoming virtual chapter events
Safety Talk & Tips *ABC MEMBERS ONLY*- Sit back with a cup of coffee and kick off the morning with safety directors and experts discussing tips and techniques in the post COVID-19 workplace and job sites.

Every Wednesday, Starting on April 29th and ending on May 27th
7:30am – 8:00am
Via Zoom Conference Call (email vklein@abcgmc.org for Zoom link)
*No RSVP Necessary
ABC MEMBERS ONLY

Led by ABC, Greater Michigan Chapter President, Jimmy Greene

For questions, please email vklein@abcmc.org
Post covid-19 materials
"COVID-19 Employee/Visitor Workplace Questionnaire" – email vklein@abcgmc.org for a personalized version with your company logo (digital and paper form).
Resource for Health Screening Form on Job Sites

– The Greater Michigan Chapter has partner with Spark Business to bring our members a FREE digital screening questionnaire. A lot of builders and contractors, like you, will need a formal form as things start to open back up. Please enjoy a free form and custom URL, a poster with QR code, and email alerts triggered only by high-risk responses. This digital questionnaire form could be used for your employees or for visitors.

For more information on how this all works please click here or contact Brad at Spark at brad.wilson@sparkbusinessworks.com / 313-570-7168

Need PPE to get back to work? Facemasks or Hand Sanitizer? – email jgreene@abcgmc.org with your needs!
Webinars
Please click here for all Upcoming & recorded webinars (Provided by ABC National)
Visit ABC general counsel Littler Mendelson's coronavirus webpage, which includes the resources below:
Primary Communities Served