CORONAVIRUS (COVID-19) INFO & RESOURCES
CORONAVIRUS (COVID-19) INFO & RESOURCES
At this time the ABC Fashion Show scheduled for March 21st Has been cancelled. However the Great Lakes Bay Regional Fundraiser to benefit Make-A-Wish Michigan scheduled for April 17th, and our spring golf outing scheduled for april 29th have been postponed.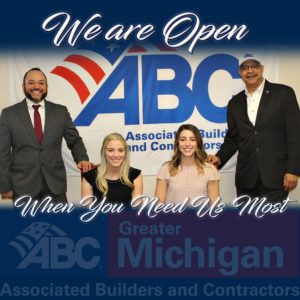 Covid-19 Latest Updates
April 9th: Coffee Chat with Dr. Tim Nash & Jimmy Greene – Join us Tuesday, April 14th at 7:30am for a call with Dr. Tim Nash and Jimmy Greene. Click here to RSVP – deadline is April 13th in order to receive conference call line information. 
April 7th: A powerful message from our CEO: We know that when the sun goes behind a cloud or sets for the night, it has not disappeared but is simply temporarily out of sight. This crisis has made me trust my inner core when things were bad in my life. My inner core is strong and shines brightly, even when I can't quite see it. 
We can cling to this core when things around us are falling apart, knowing that there is a light that shines from within ourselves. Times of crisis and the darkness that comes with it can be a great gift in that they provide an opportunity to remember this inner light that shines regardless of the circumstances of our lives. 
When our external lives begin to come back together, we are able to lean a bit more lightly on the structures we call tomorrow, knowing more clearly than ever that the sheer anticipation of a tomorrow is that bright sun shining in our core.
#OneDayCloserToNormal
#PleaseStayHealthyStaySafe✝️💜
April 6th: CEO Corner Updates: Check out this article from The Detroit News from United States Congressman John Moolenaar. 
As many of you know, Jimmy Greene has been working with McDonald's in the past few weeks to gather gift cards to hand out in the community. In total, he has raised more than $10,000 and distributed more than 3,000 Happy Meals in the Mid-Michigan region! 
"Stay at home" order – What It Means For Construction
BUSINESS GUIDANCE – Executive Order 2020-21: Guidance for Business Information
LETTER FOR YOUR EMPLOYEES – All businesses and operations are prohibited from requiring workers to leave their homes, unless those workers are necessary to sustain or protect life or to conduct minimum basic operations. Businesses and operations are to designate the workers that meet the criteria, and must adopt social distancing practices and other mitigation measures to protect workers and patrons in the performance of that necessary in-person work, the Governor's Office said. EXAMPLE LETTER HERE.
FAQ – Construction industry Stay in Place Guidance- Governor Whitmer expanded on the language in her EO FAQ:
Q: Is construction allowed under the executive order?
A: Some limited forms of construction are permissible, including construction to maintain and improve essential public works like roads, bridges, the telecommunications infrastructure, and public health infrastructure. Construction workers may also undertake such projects as necessary to maintain and improve the safety, sanitation, and essential operations of residences. In addition, businesses may designate construction firms to provide necessary support to the work of the businesses' critical infrastructure workers. All construction work that is carried out while the order is in effect must be done in accordance with the mitigation measures required under section 5(c) of the order.
There are ongoing conversations so Jimmy will let you know if they share any updates with us. Also, please remember to contact OPLA if you need anything.
Click here to view the Executive Order No. 2020-21 – Temporary requirement to suspend activities that are not necessary to sustain or protect life.
Webinars
Please click here for all Upcoming & recorded webinars (Provided by ABC National)
Live Townhall with Speaker of the House Lee Chatfield (Provided by ABC of Michigan)
Make sure you don't miss this exclusive webinar crucial to the Michigan construction industry.
Register – This webinar is exclusive to ABC Members only, email vklein@abcgmc.org to register. 
Wednesday, April 8 from 3:00 – 4:00 p.m. This is a special event for ABC members only.
Engaging a Remote Workforce Webinar (Provided by Davenport University)
Engaged employees aren't just nice to have. In fact, companies with engaged employees outperform those without by up to 202% (Gallup). With many employees working remotely (some for the first time), we've assembled tips for keeping remote workers productive and engaged.
 CLICK HERE to register!
Friday, April 10th at 11:00 A.M.
The paycheck protection program Website
A new statewide website, to provide businesses with key resources to assist with the PPP application and loan process and ensure the greatest amount of federal funding is able to be used by small businesses for economic relief efforts throughout the state.
Self Insured workers' compensation fund
The ABC Greater Michigan Chapter has been closely monitoring the impact of the Coronavirus (COVID-19) and the impact to our industry. Our self-insured workers' compensation fund (ABC Fund) has been involved in communicating with its members on preparing for the impact to employee safety and how to handle questions related to workplace claims.
Over 480 ABC contractors are participating in the ABC Fund and during this unprecedented period, the fund's online safety resources are now being extended to all contractor members of the association. For fund members, a fully staffed team of loss control professionals that know your industry will work directly with you on all areas of your safety program. This outreach support will be provided by phone, Email, on-line videos and through web-based training.
Contact Steve Storey at steve_storey@rpsins.com, (517) 664-2742
COVID-19 website provides a 35 page Department of Labor manual titled, "Guidance on Preparing Workplaces for COVID-19"    
Could COVID-19 cause a work related injury?
The Workers' Compensation Act excludes claims that are attributed to an "ordinary disease of life."  An ordinary disease of life in one in which the public could be generally exposed to outside of their employment. In addition, Coronavirus is not "characteristic of and peculiar to the business" of any employer. As a result, your fund's legal defense team does not believe a claim would be deemed compensable. However, some industries such as health care, may be impacted differently. If you are uncertain whether to file a claim, feel free to contact your claim team to review.
Visit ABC general counsel Littler Mendelson's coronavirus webpage, which includes the resources below:
Primary Communities Served