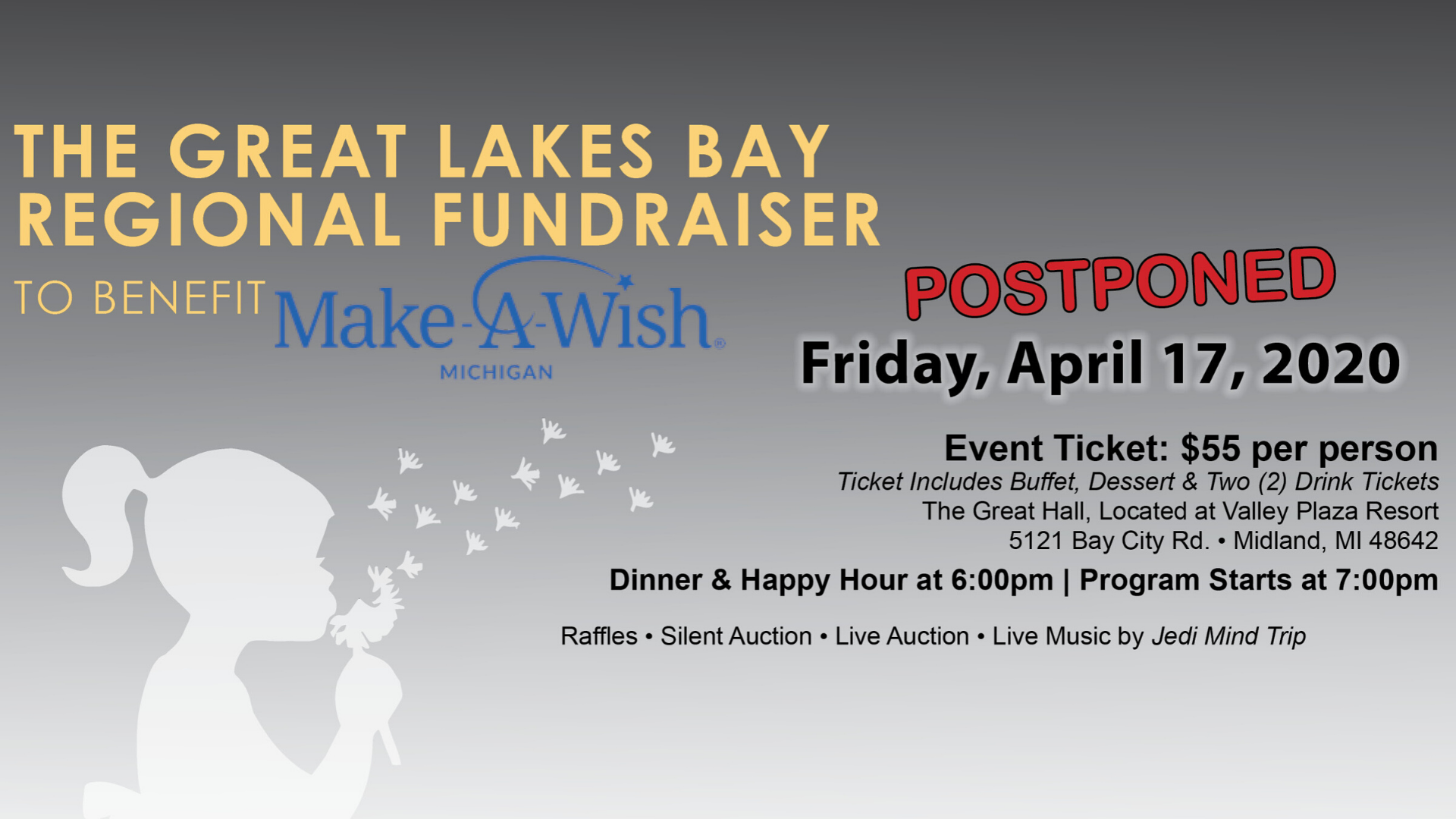 Map Unavailable
Date/Time
Date(s) - 04/17/2020
6:00 pm - 10:00 pm
Categories No Categories
As the current COVID-19 pandemic continues to reshape our lives, we must remain steadfast in focusing on health and safety of the community. In doing so, we respect the need for our nation to heal from the coronavirus-related health pandemic and allow for the implementation of new best practices that further emphasize the well-being of all.  Given such, we have shifted our efforts of the Great Lakes Bay Regional Fundraiser to benefit Make-A-Wish Foundation from this year, to 2021. We are happy to unveil the new event date of Friday, April 16, 2021.
The fundraiser event has become a catalyst for over 90 children in the GLBR to receive their 'wish' with ABC Cares hosting the event for 30+ years. Since wishes don't have an expiration dates, often times wishes are still within reach but the timelines to get there need adjusting. ABC Cares truly gets involved in the community and will never give up on the fundraiser's vision. Therefore, all purchased event tickets and sponsorships for the 2020 event will seamlessly transfer to the new event date. Further details about the 2021 event will come. Until then, please hold the date on your calendars.  
At this very moment, we all are finding ways to adjust to the new circumstances the pandemic has brought to our doorsteps. The wishes we hold for the future may vary individually but we all want to see our wishes granted including the children who are the Make-A-Wish Foundation's "Wish kids". Thank you for having a positive impact on the children and in our community. Life truly is a gift. And we thank you for sharing yours with us.
Sincerely-
The Great Lakes Bay Regional Fundraiser Event Team
The Great Hall at Valley Plaza Resort, 5121 Bay Ci
(map)
Associated Builders & Contractors, Greater Michigan Chapter celebrates over 30 years hosting this annual event. We're proud to partner with community leaders and businesses raising more than $550,000 to allow for wishes to be granted to 90+ area children. The 2020 dinner/dance benefiting the Make-A-Wish Michigan will be held, Friday April 17th, 2020 at The Great Hall in Midland starting at 6 pm.
Guests will enjoy a relaxing reception upon arrival, followed by a tasty 3-entree buffet meal with delicious sides, a brief program about Make-A-Wish, silent and live auctions, and end the night with fun dancing to a live band. We will also host a few past Wish recipients as honorary guests! Funds raised from this event will be used to sponsor wishes of children in the Great Lakes Bay Region who are bravely facing their health challenges.
Ticket Cost – $55 per person (includes buffet, dessert and 2 drink tickets)
Event Sponsorship Opportunities  – There are a variety of sponsorships and ways to support this amazing event! Please note some sponsorships include event tickets. PLEASE CLICK HERE FOR SPONSORSHIP FLYER
***Bring out your inner Super Hero 🦸‍♂️ April 17th with the Great Lakes Bay Regional Fundraiser to benefit Make-A-Wish Michigan! We are expanding the fun on the event to include a Super Hero theme! 🦹🏾‍♀️ Adults and kids are all invited to showcase your favorite superhero. Face paint, masks, partial or full outfits and of course, capes, are all welcome. There's a hero inside you all. Who will you reveal at the event??? 🦸🏽*
 GLBRF To Benefit MAW – Flyer 2020.pdf
Special Guest Speaker: Jenny Dumont Radler , Owner of A Place For Grace Child Care 
Lions, Tigers, Bears, Oh My! While most people might be frightened to interact with such animals, Emma Grace Dumont longed to one day not only interact with them but to feed and care for them among other animals as a zookeeper. Unfortunately, sometimes life's challenges get in the way of making a dream become a reality; especially when a life-threatening condition is present. It's those times where superhero power is needed most.
In 2016, many community supporters, whom we like to call "Superheroes", joined forces with ABC Cares and Make-A-Wish® Foundation in the name of hope. Emma's long-time wish to become a zookeeper was granted under the Make-A-Wish® Foundation's Wish Kid initiative and took place at California's San Diego Zoo.  Jenny Dumont Radler, Emma's mom, expressed her gratitude to all involved in helping to fund the Wish granting.  "When a child with a life threatening illness gets their wish – it is magical.  It helps you and them forget a little of what is ahead of both of you and what you have been through.  It puts a smile on the faces of our innocent children that were tears just days before.", said Radler.
The granting of wishes can change the odds for children fighting their illness. A wish granting helps kids look past their limitations, families overcome anxiety and entire communities experience more joy. Most importantly, wishes can improve a child's quality of life. Life-changing wishes start with you. To experience the power of gifting hope, join us at the event, sponsor the fundraiser for as little as $100, donate an item for auction or provide a direct monetary donation. For more information, please call 989-374-4600 or email vklein@abcgmc.org.
Bookings
Bookings are closed for this event.